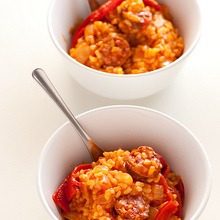 Spanish Rice With Chorizo & Peppers
---
Ingredients:
1 tblspn olive oil
1 large onion, peeled & chopped
2 cloves garlic, peeled & thinly sliced
2 - 4 chorizo, sliced
1 cup arborio rice
400g can tomatoes, chopped
2 tspns smoked Spanish paprika
2 cups water
1/2 jar pimentos, sliced
Borrowed (without permission) from Jules Clancy at Stonesoup.
Serves: 3 - 4
Method:

Heat oil in a large saucepan and cook onion over a medium low heat, covered and stirring occasionally until soft but not browned. Add garlic and chorizo and cook for another minute or so. Add rice, tomatoes, paprika and water and bring to a simmer.
Cook stirring occasionally until the water is absorbed and the rice is soft – 20 minutes mas ou menos (more or less). If it becomes a little dry before the rice is cooked, add a little more water.
Stir through pimentos, season well and allow to heat through.
Divide between serving bowls and serve hot.