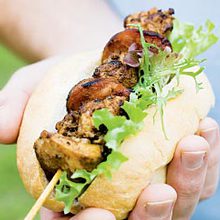 Chicken & Chorizo Skewers
---
Ingredients:
2 chicken fillets
1 tblspn olive oil
2 cloves garlic, crushed
2 tspns ground oregano
2 tspns sweet paprika
1 tblspn lemon juice
2 tspns brown sugar
4 chorizo sausages, thinly sliced diagonally
Crusty bread rolls, split
Mixed salad leaves
Serves: 6
Method:

Combine chicken, oil, garlic, oregano, paprika, lemon juice and sugar in a bowl. Place in the fridge for 2 hours to marinate.
Evenly thread the chicken, alternating with chorizo, among the skewers.
Heat a char-grill pan or barbecue on high. Add the skewers and cook, turning, for 6-8 minutes or until chicken is cooked through.
Remove from heat and place in the fridge to chill. Serve with bread rolls and mixed salad leaves, if desired.