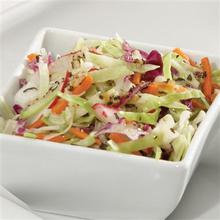 Coleslaw
---
Ingredients:
1/2 cabbage, finely shredded
1 carrot, finely grated
finely shredded capsicum
3/4 cup caster sugar
1/2 cup vinegar
1/2 cup oil
1 tspn salt
1 tspn mustard
2 tspns caster sugar
1 tspn celery seeds
Method:

Layer 1/2 cabbage shreds in a container,then layer the grated carrot, then lastly a layer of cabbage. This mixture shrinks, so make sure the container is over-filled.
A layer of onion may also be added.
Some finely shredded capsicum can be laid on top if you wish.
Sprinkle 3/4 cup caster sugar over the top.
Place dressing ingredients in a saucepan. Bring to the boil, do not stir, then pour boiling mix over the vegetables. Place lid on top and keep refrigerated for 24 hours. After that, toss and it is ready for use.