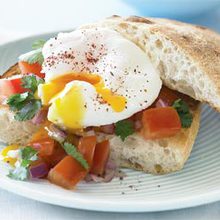 Turkish Toast With Poached Egg
---
Ingredients:
3 tomatoes, diced
1 small red onion, diced
1/3 cup coriander leaves, roughly chopped
1 tspn red wine vinegar
1 tspn white vinegar
4 free range eggs
1 loaf Turkish bread
1 tspn sumac
Serves: 4
Method:

Combine tomatoes, onion, coriander and red wine vinegar in a bowl. Season with salt and pepper. Cover and set aside for 30 minutes to allow flavours to develop, if time permits.
Bring a large saucepan of water to the boil over high heat. Add white vinegar and a pinch of salt. Reduce heat to low and gently simmer. Crack 1 egg onto a saucer (to check egg yolk is intact). Using a large spoon, stir simmering water to create a whirlpool. Tip egg into centre of whirlpool. Repeat with another egg. Poach eggs for 3 to 4 minutes or until just set. Use a slotted spoon to transfer eggs to a plate. Cover to keep warm. Repeat with remaining eggs.
Cut Turkish bread into 4 pieces, split and toast.
Place bread bases on plates. Top with tomato mixture and eggs. Sprinkle with sumac. Cover with bread tops. Serve.