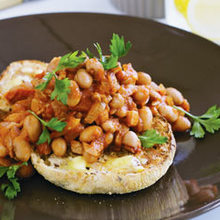 Boston Baked Beans
---
Ingredients:
2 tspns olive oil
3 rashers rindless bacon, chopped
1 small brown onion, finely chopped
2 cloves garlic, crushed
1 tspn hot paprika
400g can diced tomatoes
2 tspns brown sugar
1 tblspn tomato paste
2 x 400g cans borlotti beans, drained, rinsed
4 English muffins
1 tblspn butter, softened
2 tblspns flat leaf parsley leaves
Serves: 4
Method:

Heat oil in a deep, non-stick frying pan over medium heat. Add bacon and cook for 4 to 5 minutes or until crisp. Remove bacon from pan using a slotted spoon and set aside.
Add onion to frying pan. Cook, stirring, for 3 minutes or until onion is tender and light golden. Add garlic and paprika. Cook, stirring, for 1 minute.
Return bacon to frying pan. Add the tomatoes, sugar, tomato paste and beans. Cook, stirring often, for 5 minutes or until heated through. Season with salt and pepper.
Split muffins and toast. Spread with butter. Place on serving plates. Spoon over baked beans. Sprinkle with parsley. Serve.