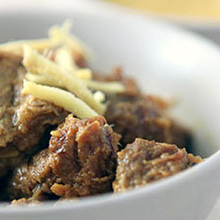 Adraki Gosht (Gingered Lamb)
---
Ingredients:
850g lamb
1 large onion
8cm fresh ginger
4 tblspns low fat natural yoghurt
1 tspn coriander powder
1/2 tspn turmeric powder
1/2 tspn chilli powder
1 large bay leaf
1 stick cinnamon
2 tblspns oil
salt, to taste
Serves: 4
Method:

Dice the lamb shoulder into large chunks. I use boneless rolled shoulder, which is readily available without a special trip to the butcher.
Chop the onion roughly and mince the ginger in a food processor or just chop finely. Marinate the meat in the yogurt, ginger, turmeric and chilli powders and leave to sit while you fire up the oil in a large pot.
When the oil is hot, add the bay leaf, cinnamon and chopped onion. Saute for five minutes until the onion is pale golden. Then mix in the coriander powder, lamb and its marinade.
Brown the lamb on high, then add half a cup of hot water, lower the heat to a medium high and cook covered for half an hour. You need to keep stirring the lamb to make sure it doesn't burn. If the masalas start getting stuck to the bottom of the pot, add another half a cup of water and scrape them off.
After half an hour, take the cover off and cook for another half an hour uncovered stirring regularly. Add another half a cup of hot water if the lamb starts sticking to the bottom of the pot. The reason I'm being vague about the cups of water is because it slightly depends upon the quality of the lamb you're working with.
Finish by adding salt to taste and a sprinkle of fresh, julienned ginger to the serving dish before you plonk it on the dining table. This is great with warm rotis and a raita.