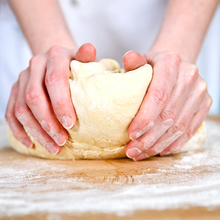 Pizza Dough
---
Ingredients:
400ml lukewarm water
1 x 7g packet of dried yeast
15g caster sugar
700g '00' flour, plus extra for dusting
15g table salt
60ml extra virgin olive oil
50ml milk
Method:

Add 2 tablespoons of the water to the yeast and massage it into a paste with your fingers. Add the remaining water and the sugar and stir to combine.
Tip flour and salt into the bowl of an electric mixer with the dough hook attached. Turn mixer onto low speed and add yeast mixture. Let it mix for 2 minutes until the dough comes together. Add oil and milk and mix for another 4 minutes until smooth and elastic.
Lightly dust a clean work surface with flour. Remove dough from the mixer, scraping the dough hooks. Knead the dough for a couple of minutes, dusting with more flour when necessary. Shape the dough into a ball.
Lightly dust a clean chopping board or baking sheet with flour. Place the dough on the board and cover with a clean tea towel and leave in a warm, draught-free place to prove for 10-15 minutes.
Cut the dough into 120g portions and roll into balls. Cover with the tea towel and set aside on the floured board to rise for a further 30 minutes or doubled in size.