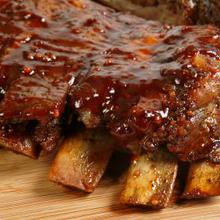 BBQ Pork Ribs
---
Ingredients:
1.5kg pork ribs
1/4 cup olive oil
lime cheeks, to serve
RUB MIXTURE
1 tblspn brown sugar
1 tblspn salt
1 tspn chilli powder
1 tspn smoked paprika
1 tspn mustard powder
1 tspn ground cumin
1 tspn dried oregano leaves
1/2 brown onion, finely chopped
2 garlic cloves, finely chopped
MARINADE
1 cup brown sugar
250ml malt vinegar
1 tspn ground cinnamon
1 tspn chilli powder
1 tspn hot English mustard
2 tblspns tomato sauce
2 tblspns Dijon mustard
125ml bourbon
1 onion, finely chopped
1 tomato, finely chopped
2 bay leaves
1 tspn cumin
1 tspn smoked paprika
1 jalapeno chilli, finely chopped
1 orange peel rind
Serves: 4
Method:

Combine rub ingredients in a large bowl. Add ribs to the bowl, using your hands, rub the mixture into the meat to coat completely. Set aside in the fridge for 2-3 hours to marinate.
Preheat oven to 180°C.
Heat a BBQ or char grill plate over high heat. Drizzle olive oil onto ribs and toss to coat. Place ribs fat-side up and cook for 3-4 minutes each side or until sealed.
Place cooking marinade ingredients and 1 1/2 tsp of salt in a saucepan and bring to the boil. Reduce heat to a simmer and cook for about 10-15 minutes until thickened slightly.
Transfer ribs to a large, non-stick roasting pan and pour over hot marinade. Cover with foil and cook in the oven for 1 ½ hours or until falling off the bone, turning 3-4 times throughout.
Serve ribs with lime cheeks.