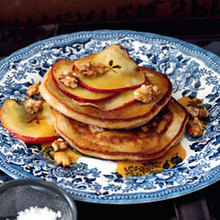 Ricotta Pancakes With Maple Glazed Apples
---
Ingredients:
1 1/2 cups 9225g) self-raising flour
1/4 cup (55g) brown sugar)
2 tspns ground cinnamon
2 eggs, lightly whisked
1 cup buttermilk
1/2 cup milk
1 cup fresh ricotta
20g butter
2 fuji apples, thinly sliced
1/2 cup maple syrup
1/2 cup (60g) toasted walnuts, coarsely chopped
Maple chop, to serve
Serves: 4
Preparation time: 30 minutes
Method:

Combine the flour, sugar and cinnamon in a large bowl. Combine the eggs, buttermilk and milk in a small bowl and whisk until just combined. Pour into the flour mixture and stir until just combined. Add the ricotta and gently fold into the batter. Cover with plastic wrap and set aside for 15 minutes to rest.
Meanwhile, melt the butter in a large frying pan over medium-high heat until foaming. Add one-quarter of the apples and cook, turning, for 1 minute or until golden brown. Transfer to a plate. Repeat in 3 more batches with remaining apple. Return the apple to the pan, drizzle with maple syrup and turn to coat. Remove from heat and set aside.
Heat a large non-stick frying pan over medium heat. Add 1/3 cup (80ml) of pancake batter to the pan to form a 12cm pancake. Cook for 2 minutes or until bubbles have risen to the surface and the pancake is golden underneath. Turn with a spatula or toss. Cook for a further 1-2 minutes or until just cooked.
Transfer to a plate and cover with a clean tea towel to keep warm. Repeat the cooking process with remaining batter, greasing the pan between batches, stacking as they are cooked.
Divide pancakes among serving plates. Top with apples and drizzle with pan juices. Sprinkle with walnuts. Serve immediately with extra maple syrup.