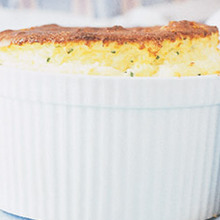 Cheese Souffle
---
Ingredients:
Melted butter, to grease
Dried breadcrumbs, to dust
30g butter
2 tblspns plain flour
310ml milk
80g coarsely grated cheddar
1/4 cup finely chopped fresh chives
4 eggs, separated
Serves: 4
Preparation time: 30 minutes
Method:

Preheat oven to 200°C. Brush a 1.5L (6-cup) capacity ovenproof souffle dish with melted butter to lightly grease. Lightly dust with breadcrumbs. Place a baking tray in the oven.
Melt the butter in a medium saucepan over medium heat until foaming. Add the flour and cook, stirring, for 2 minutes or until mixture bubbles and begins to come away from the side of the pan. Remove from heat. Gradually pour in half the milk, whisking constantly with a balloon whisk until mixture is smooth. Gradually add the remaining milk, whisking until smooth and combined. Place saucepan over medium heat and bring to the boil, stirring constantly with a wooden spoon, for 3-4 minutes or until sauce thickens. Remove from heat.
Add the cheddar, chives and egg yolks, and stir until cheddar melts and the mixture is well combined.
Use an electric beater to beat the egg whites in a clean, dry bowl until firm peaks form. Add one-quarter of the egg white to the cheddar mixture and use a large metal spoon to fold until just combined. Add the remaining egg white and fold until just combined.
Pour the souffle mixture into the prepared dish. Run your finger around the inside rim of the dish in the souffle mixture. (This will give the cooked souffle a "top hat" appearance.) Place souffle on preheated baking tray in oven and bake for 15-20 minutes or until golden brown and puffed (souffles are best when they're still slightly runny in the centre). Remove from oven and serve immediately.