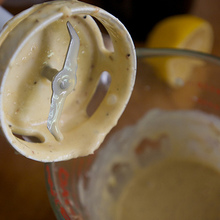 Caesar Salad Dressing
---
Ingredients:
1 egg
250ml peanut or olive oil
2 tblspns vinegar
1 tblspn Dijon or French mustard
Freshly ground black pepper to taste
1 clove of garlic
1 anchovy fillet (optional)
A dressing for your favourite salad.
Method:

Put oil, egg, mustard and whole garlic in a jug.
Using a stick blender, blend at high speed to form an emulsion. This should be quite thick at this stage.
Add vinegar while continuing to blend until you have the required consistency of a dressing.
Add anchovy if required and blend.
Add freshly ground black pepper to taste.