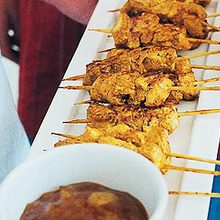 Chicken Satays
---
Ingredients:
1 cup coconut cream
2 tblspns mild curry powder
4 cloves garlic
2 tblspns brown sugar
2 tblspns fish sauce
4 tblspns chopped coriander root & stem
1 kg chicken breast fillets, cut into 2cm pieces
Serves: Makes 30
Method:

Place coconut cream, curry, garlic, sugar, fish sauce and coriander in a blender and process until smooth.
Place chicken in a non-metallic bowl, add marinade and stir well. Cover and refrigerate overnight.
The next day, thread 3-4 pieces of chicken on each skewer, then grill until cooked through.
Serve on platters with mango chutney, if desired.