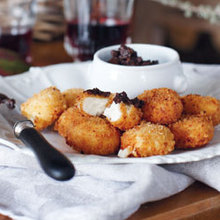 Goat's Cheese Fritters
---
Ingredients:
500g fresh ricotta
400g soft goats cheese
1/4 cup plain flour
2 tspns thyme leaves
2 eggs, beaten
1 cup dry breadcrumbs
Sunflower oil, to deep fry
Olive tapenade, to serve
Serves: 12
Method:

Place ricotta, goat's cheese, flour and thyme in a bowl, season, then mash with a fork (or pulse in a processor). Add egg and mix until smooth.
Form into 12 walnut-sized balls, then flatten slightly with your hand. Coat in breadcrumbs, then chill for 30 minutes to firm up.
Half-fill a deep-fryer or large saucepan with oil and heat to 190°C. (A cube of bread will turn golden in 30 seconds when oil is hot enough.) Fry cheese, in batches, for 2-3 minutes until golden.
Serve warm with olive tapenade.