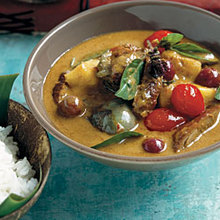 Roast Duck With Red Curry
---
Ingredients:
375ml coconut milk
1/3 cup Thai red curry paste
125ml coconut cream
3 kaffir lime leaves, torn
1/2 roast duck, cut inot bite size pieces
200g pineapple, cut into 2cm pieces
10 grape tomatoes
1/3 cup red seedless grapes
1 cup Thai basil leaves
2 tblspns fish sauce
1 tblspn soy sauce
1 tblspn caster sugar
1 tblspn grated palm sugar
Steamed jasmine rice, to serve
Serves: 4
Method:

Heat 1/4 cup coconut milk in a wok over medium-high heat for 3-5 minutes or until oil starts to separate from milk.
Add curry paste and stir for 2-3 minutes or until roasted and fragrant.
Add remaining coconut milk and cream and bring to the boil, then add lime leaves. Cook for 3 - 5 minutes.
Add remaining ingredients to wok and cook for a further 3 minutes or until heated through.
Serve immediately with steamed rice.