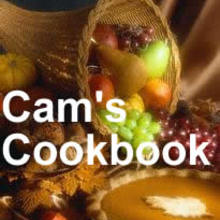 Whiting Fillets on Steamed Greens with Coriander Butter
---
Ingredients:
10 sprigs coriander
50 g soft unsalted butter
juice of 1 lemon
2 baby bok choy
2 zucchini
20 snowpeas
16 baby spinach leaves
600 g whiting fillets
freshly ground black pepper
plain flour
extra virgin olive oil
freshly chopped parsley for garnish
Method:

To make herb butter, chop coriander leaves finely and mix into soft butter with half the lemon juice. Keep at room temperature until needed.
Wash bok choy well, removing outer leaves, and cut in half lengthways. top and tail zuchini and cut into thin slices lenghtways. String the snowpeas and wash spinach.
Bring a large pot of lightly salted water to the boil. Cook the vegetables, starting with the bok choy and zuchini, for 2 - 3 minutes, adding the spinach for the last 30 seconds. Drain well and arrange on plate.
Top vegetables with fish and a dollop of herb butter. Sprinke with extra virgin olive oil and chopped parlsley around the edges.