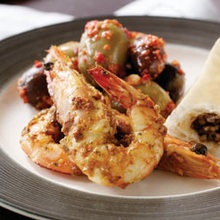 Filo Cigars
---
Ingredients:
1 tblspn olive oil
1 brown onion, halved, finely chopped
1 clove garlic, crushed
2 tspns sweet paprika
1 tspn ground cumin
1/2 tspn ground cinnamon
1/4 tspn cayenne pepper
500g lamb mince
1/4 cup coarsely chopped fresh coriander
1 egg, lightly whisked
12 sheets filo pastry, halved crossways
50g butter, melted
1 egg yolk, lightly whisked
vegetable oil, to deep fry
Serves: 24
Preparation time: 30 minutes
Method:

Heat the olive oil in a frying pan over medium heat. Add the onion and garlic and cook, stirring, for 5 minutes or until the onion is golden. Add the paprika, cumin, cinnamon and cayenne pepper and cook, stirring, for 1 minute or until aromatic. Add the mince and cook, stirring with a wooden spoon to break up any lumps, for 5 minutes or until the mince changes colour. Set aside for 30 minutes to cool.
Add the coriander and egg to the mince mixture and stir to combine. Season with salt and pepper.
Place the filo pieces on a clean surface. Cover with a dry tea towel, then a damp tea towel (this will prevent it from drying out). Brush 1 piece of filo with a little melted butter and fold in half. Spoon 1 tablespoonful of lamb mixture along the centre of 1 narrow edge. Fold in sides and roll up to create a cigar shape. Brush the end of the pastry with egg yolk and press to seal. Place on a tray. Repeat with remaining filo, butter, mince mixture and egg yolk.
Add enough vegetable oil to a medium saucepan to reach a depth of 6cm. Heat to 170°C over medium-high heat (when oil is ready a cube of bread will turn golden in 20 seconds). Add filo cigars, 4 at a time, and cook for 3 minutes or until golden. Transfer to a plate lined with paper towel. Repeat, in 5 more batches, with remaining filo cigars, reheating oil between batches. Place on a serving plate. Serve hot or at room temperature.