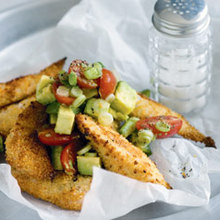 Parmesan Couscous Crusted Chicken Tenderloins
---
Ingredients:
1/2 cup couscous
1/2 cup boiling water
1/2 cup grated parmesan
12 chicken tenderloins
2 ripe avacados, halved, stoned, peeled, chopped
250g punnet red grape tomatoes, halved
2 green onions, trimmed, thinly sliced
1 tblspn lime juice
Serves: 4
Preparation time: 25 minutes
Method:

Preheat oven to 220°C. Line an oven tray with baking paper. Place the couscous in a medium heatproof bowl. Pour over the boiling water, then cover and set aside for 5 minutes. Use a fork to fluff the grains to separate. Set aside to cool slightly.
Add the parmesan to the couscous and toss to combine. Season with salt and pepper and place on a plate. Roll the tenderloins in the couscous mixture and gently press to coat. Place on the lined tray. Bake in preheated oven, turning occasionally, for 10 minutes or until golden brown and cooked through.
Meanwhile, combine the avocado, tomato, green onions and lime juice in a medium bowl and season with salt and pepper. Place the chicken on serving plates, top with salsa and serve immediately.