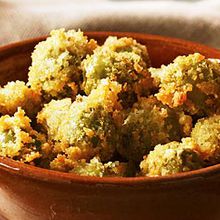 Fried Green Spanish Olives
---
Ingredients:
1/3 cup plain flour
2 eggs, lightly beaten
1 tblspn milk
1 1/2 cups fresh breadcrumbs
1 1/3 cups finely grated parmesan cheese
Pinch of cayenne pepper
500g Spanish stuffed olives, rinsed, drained
olive oil, to deep fry
Serves: 10
Preparation time: 20 minutes
Method:

Line a baking tray with non-stick baking paper. Place the flour on a plate. Combine the egg and milk in a bowl. Combine the breadcrumbs, parmesan and cayenne pepper in a bowl.
Dip olives in flour and shake off excess. Dip in the egg mixture, then in the breadcrumb mixture, pressing to coat. Place on lined tray. Place in the fridge for 15 minutes to chill.
Add enough oil to a large saucepan to reach a depth of 5cm. Heat to 190°C over medium-high heat (when oil is ready a cube of bread will turn golden brown in 10 seconds). Add one-fifth of the olives to the oil and cook for 30 seconds or until golden. Use a slotted spoon to transfer to a plate lined with paper towel. Repeat, in 4 more batches, with the remaining olives, reheating oil between batches. Place in a serving bowl and serve.