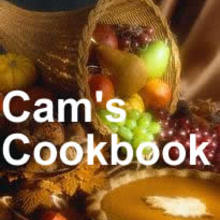 Marinated Lamb with Tomato & Mint Salsa
---
Ingredients:
lamb Fillets
lemon juice
garlic
ground pepper
extra virgin olive oil
canned tomatoes
couple fresh tomatoes
red onion, finely chopped
fresh mint
balsamic vinegar
creamy plain yoghurt
Method:

The night before remove all traces of fat from the lamb fillets!!
Marinate them intact, in the lemon juice, extra virgin olive oil, & garlic.
Drain & dice the canned tomatoes add to this the real tomatoes, diced onion, finely chopped mint & ground pepper.
Add finely chopped mint & garlic to the yoghurt & leave in fridge.
Cook fillets on the barbecue plate (medium - rare). Slice the lamb thin to medium & place on the plate in an attractive fashion.
Add to this the warmed salsa with a sprinkling of balsamic vinegar & a dollop of the yoghurt sauce.
Serve.