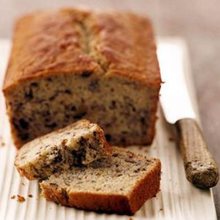 Choc Chip Banana Bread
---
Ingredients:
3 tblspns butter, melted
2 eggs
80ml milk
1 cup mashed banana
2 1/4 cups bread flour
3/4 cup brown sugar
2 tspns baking powder
1/2 tspns bicarb soda
2 tblspns choc chips
Method:

Add all ingredients to the breadmaker and select 'Cake/Quick Bread' or equivalent setting.
You may need to give it a little helping hand to mix in the Breadmaker with a plastic spoon as sometimes it doesn't mix properly.
You will think its really too runny but thats how it is. You can add Dates or Sultanas as well.