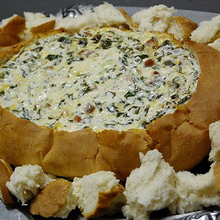 Spinach Dip
---
Ingredients:
1 packet frozen spinach
250g tub sour cream
1 cup whole egg mayonnaise
1 packet french onion soup mix
1 Cob loaf
You can warm the cob loaf in oven for a few minutes before putting the dip into the loaf- gives it a nice crunch.
Preparation time: 10 minutes
Method:

Squeeze and discard all liquid from thawed spinach. Place into a large bowl. Add sour cream and mayonaise. Stir until well combined and smooth. Add soup mix. Mix until well combined.
Using a serrated knife, slice a 3 to 4cm-thick slice off top of loaf. Set aside. Remove soft white bread from centre of loaf to form a bread 'bowl'. Spoon dip into loaf. Replace bread lid. Serve immediately.