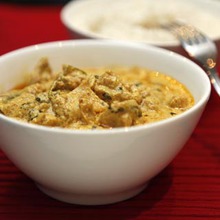 Coriander Chicken Curry
---
Ingredients:
4 chicken breast fillets
1 small onion
4 cloves garlic
2.5cm ginger
250g natural Greek yoghurt
1/2 tspn turmeric powder
1 tspn coriander powder
1/2 tspn chilli powder
1/2 tspn garam masala
15g fresh coriander
2 tblspns oil
salt to taste
'Borrowed' from Mallika Basu at Quick Indian Cooking.
Serves: 4
Method:

Take the yoghurt out of the fridge. Roughly chop the onion and finely mince of puree the garlic ginger. Cube the chicken into bite-sized pieces.
In a medium-sized pan, bring the oil to heat on high. When it starts sizzling, add the onions, ginger and garlic and fry until the mixture is golden brown. The stir in the all the powders apart from the garam masala.
Fry the masalas for five minutes, adding a serving spoon of hot water if they start getting stuck to the bottom of the pan. Then mix in the chicken and seal on the high heat for about two minutes.
Next, spoon in the yoghurt, lower the heat to medium low and cook, stirring regularly for about 10 minutes until the chicken is cooked and oil floats to the surface of the curry. Finally stir in the coriander, garam masala and salt to your taste. Serve piping hot with freshly-made Basmati rice.