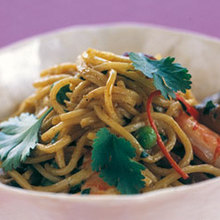 Singapore Noodles
---
Ingredients:
225g thin fresh egg noodles
25g dried Asian noodles
100g Chinese barbecued pork
2 tblspns light soy sauce
2 tblspns Shaohsing rice wine
2 tblspns curry powder
1 tblspn brown sugar
250ml coconut milk
185ml chicken stock
20ml vegetable oil
3 cloves garlic, crushed
1 tblspn grated ginger
2 small red chillies, seeded, cut into strips
4 shallots, sliced on the diagonal
fresh coriander leaves
Serves: 4
Method:

Cook noodles following packet directions, drain and refresh. Toss in a little oil. Soak mushrooms for 10 minutes in 1/2 cup of boiling water. Drain and discard liquid. Slice mushrooms and pork.
Combine the soy, rice wine, curry powder, sugar, coconut milk and stock in a bowl. Set aside. Heat oil in a wok over medium-high heat, add garlic, ginger, chilli and mushrooms and fry for 30 seconds.
Add pork and shallots and cook for a further minute. Add noodles, prawns and peas and cook for 2 minutes. Add liquid ingredients and cook for 5 minutes until most of the liquid has been absorbed.
Serve garnished with coriander.