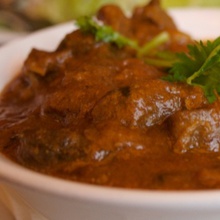 Koriai Lamb Curry
---
Ingredients:
2 1/2 tblspns ghee
1 large onion, chopped
2 cans whole peeled tomatoes
1 head gralic, chopped
25mm piece of ginger, chopped
2 tblspns turmeric
1 tblspn coriander
1 tblspn cumin
chillie to taste
1 kg lamb, cubed
1 tblspn garam masala
fresh coriander
Jasmin rice
cardamom pods
2 cloves
Preparation time: 5 hours
Method:

Add ghee and onion to a slow cooker, and cook until onion is clear.
Add tomatoes, garlic and ginger, and simmer for 10 minutes. Add 1 tablespoon each of turmeric, coriander, cumin and chillie to taste. Simmer for 10 minutes.
Remove from the slow cooker and process in a blender until smooth.
Return to the slow cooker, then add lamb, garam masala and fresh coriander. Cook on low for about 3 hours.
Add 1 more tablespoon of turmeric and more chillie to taste. Continue to cook for another 2 hours.
Cook the rice with cardomom pods and cloves to add flavour.
Serve.