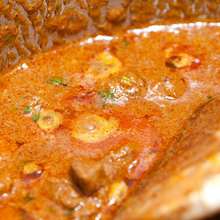 Lamb & Yoghurt Curry
---
Ingredients:
750g diced lamb
1 large onion
1 tsp grated ginger
1 clove of garlic
1 tsp ground coriander seed
2 tsp ground cumin
1/2 tsp ground black pepper
1 tsp garam masala
1 tsp dry mustard
1 tsp turmeric
1/4 tsp ground cardamom
2 tablespoons of lemon juice
1 cup water
1/2 cup plain yoghurt
1 tsp crushed chilli
Method:

Brown lamb and chopped onion.
Add remaining ingredients except for yoghurt.
Cover and simmer for 1.5 hours.
Stir in yoghurt.
Add sultanas and a chopped apple if desired.