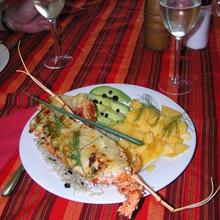 Lobster Thermidor
---
Ingredients:
1 cup milk
1 chopped onion
1 bay leaf
3 tbsp butter
2 tbsp plain flour
1/2 cup cream
3/4 cup grated tasty cheese
1 tsp dijon mustard
1 spring onion
1/4 cup of white wine
2 tbsp grated parmesian
parsely to garnish
1 cooked lobster
Grilled lobster in a white wine and cheese sauce.
Method:

Get fish monger to cut lobster in half lengthwise. Remove all yucky bits. Remove lobster flesh from 2 half shells, wash, dry and cut into bite size pieces.
Combine chopped onion with milk and bay leaf, bring to boil then discard onion and bay leaf.
Melt 2 tbsp butter, add flour and stir over heat for 2 minutes. Add milk and stir until it thickens. Remove from heat, add cream, cheese and mustard.
Melt 1 tbsp butter, add chopped spring onions and saute for a couple of minutes. Add wine, simmer until reduced by half. Add cheese sauce and lobster.
Put lobster mixture into the 2 half lobster shells, sprinkle with parmesand cheese and parsely. Grill until lightly browned.
Serve with sauteed asparagus spears, french fries and the rest of the white wine.