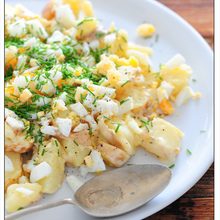 Preserved Lemon Potato Salad
---
Ingredients:
500g salad potatoes, such as kipfler
4 - 5 tblspns whole egg mayonnaise
1/4 preserved lemon, finely sliced
2 hard boiled eggs, colled, peeled & chopped
small bunch of chives, finely chopped
Borrowed from Jules Clancy at TheStoneSoup
Serves: 4
Method:

Scrub potatoes and place in a saucepan. Cover with water, add a little salt and bring to the boil.
Simmer for about 30 minutes or until tender.
Meanwhile, combine mayo and preserved lemon in a bowl.
When the spuds are cooked, drain and allow to cool a little so they don't burn your fingers.
Slice spuds and toss into the mayo. Arrange on a platter and scatter over the chopped egg and chives. Season.