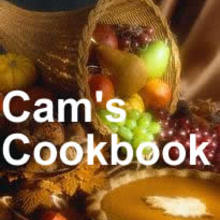 Chicken Timbales
---
Ingredients:
2 chicken fillets, minced
3 slices of ham, minced
3/4 cup cooked long grain rice
1 small onion, chopped
1 small green capsicum., finely chopped
1 egg, beaten
1 clove of garlic, crushed
1 teaspoon curry powder
salt and ground pepper to taste
sprigs of fresh thyme


SAUCE
220gm can of tomato puree
small onion finely chopped
2 table spoons white wine or stock
1 tablespoon freshly chopped thyme
Method:

In a bowl combine all ingredients and mix well. Press mixture into greased individual cups.
Bake in a moderate oven at 180?C (350?F) for 30 minutes.
Prepare the sauce in a small saucepan, combine tomato puree, onion , wine and thyme.
Heat until boiling, stir continually.
Reduce heat and gently simmer until thickened, about 10 minutes. Keep warm.
To serve; unmould timbales onto the serving dish, spoon over the sauce and garnish with fresh sprigs of thyme.