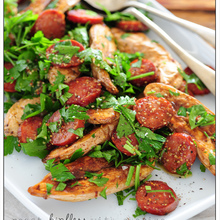 Roast Potato Salad With Chorizo
---
Ingredients:
500g salad potatoes, such as kipfler
1 chorizo, sliced
1 tblspn sherry vinegar
1 tblspn wholegrain mustard
1/2 bunch flat leafed parsley, chopped
Borrowed from Jules Clancy at TheStoneSoup
Serves: 4
Method:

Preheat oven to 220C (425F). Halve or quarter spuds and place in a roasting tray. Drizzle with a little olive oil and season.
Roast for 30 minutes. Turn and scatter the sliced chorizo over.
Roast for another 10-15 minutes or until potatoes are tender and the chorizo are browned.
Meanwhile, combine vinegar with mustard and 3 tablespoons extra virgin olive oil. Season.
Toss cooked spuds into the dressing and serve sprinkled with parsley.