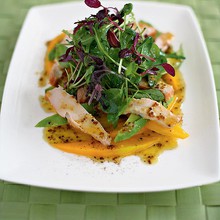 Mango, Avocado & Smoked Chicken Salad
---
Ingredients:
2 medium, firm but ripe mangoes
2 ripe avacodos
squeeze of lemon juice
350g smoked chicken breasts
200g mixed salad leaves
2 tblspns pinenuts
DRESSING
2 tblspns orange juice
2 tblspns lemon juice
1 tblspn wholegrain mustard
2 tblspns extra virgin olive oil
2 tblspns avocado oil
sea salt
freshly ground black pepper
A very refreshing, healthy salad with a fruity twist.
Serves: 4
Method:

Peel the mangoes and cut the flesh away from the stone into thin slices. Arrange on four serving plates.
Halve the avocados and remove the stone. Peel off the skin and slice the flesh into strips. Squeeze over a little lemon juice to stop the avocado flesh discolouring, then arrange over the mango slices.
Cut the chicken into thin slices and divide between the plates. Neatly pile the salad leaves in the middle of each plate.
For the dressing: Whisk the ingredients together in a bowl, seasoning with salt and pepper to taste. Spoon the dressing over the salad and serve, topped with a handful of toasted pine nuts.