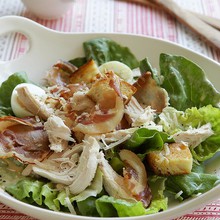 Chicken Caesar Salad
---
Ingredients:
3 chicken breast fillets
6 tblspns extra virgin olive oil
sea salt & pepper
2 thick slices country style bread
4 pancetta slices
2 tblspns yoghurt
1 clove garlic, crushed
2 anchovy fillets
1 tspn dijon mustard
1 tspn honey
1 - 2 tblspns lemon juice
2 tblspns grated parmesan
1 soft butter lettuce
3 soft boiled eggs
Serves: 4
Method:

Heat oven to 180C. Brush chicken fillets with one tablespoon olive oil, season well and bake for 15 to 20 minutes, until cooked.
Cut bread into bite-sized croutons and toss in one tablespoon olive oil. Remove chicken to rest. Add pancetta and croutons to the pan and bake for 10 minutes or until crisp, tossing once or twice.
To make dressing, whiz or whisk yoghurt with garlic, anchovy fillets, mustard, honey, lemon juice, half the parmesan, salt and pepper until smooth. Gradually add four tablespoons olive oil while whisking, until runny. Lighten with a little water if needed.
Tear lettuce leaves into bite-sized pieces. Gently toss with croutons and half the dressing and arrange on four dinner plates. Cut chicken into bite-sized pieces and strew on top. Add quartered eggs and pancetta, drizzle with the remaining dressing, scatter with remaining parmesan and serve.