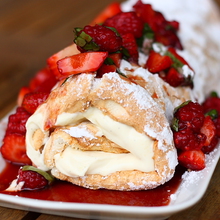 Banana Pavlova Roll
---
Ingredients:
4 egg white
1 cup of caster sugar
0.5 teaspoon Vanilla essence
1 teaspoon of white vinegar
1 large banana
300ml of cream
Icing sugar
1 punnet of strawberries
Banana and whipped cream wrapped up in meringue.
Method:

Beat egg whites until soft peaks form. Slowly add castor sugar while continuing to mix. Add vanilla essence and vinegar and mix in well.
Spread the mixture onto baking paper to create a rectangle about 1cm thick. Bake at 150 degrees for 15 minutes - crust should be light brown. Remove from oven and cool.
Beat cream until stiff. Spread the cream over the white side of the meringe, place the banana in the middle and carefully fold sides of the meringe over to form a long roll. Dust with icing sugar.
To serve, cut the roll into slices and garnish with strawberries.