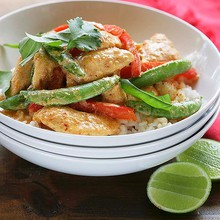 Quick Chicken Stir Fry With Sugar Snap Peas, Capsicum, Coriander & Boiled Rice
---
Ingredients:
2 cups short grain rice
1 tblspn vegetable oil
2 tblspns red curry paste
3 chicken breast fillets, thinly sliced
1 red capsicum, seeded and sliced
1 long red chilli, finely sliced
1 cup coconut milk
150g sugar snap peas, trimmed
1/2 cup basil leaves, torn
1/2 cup coriander leaves
Lime cheeks, for serving
Serves: 4
Preparation time: 30 minutes
Method:

Combine rice with 4 cups of water in a large saucepan and bring to the boil over medium heat. Stir well and simmer, covered, over low heat for 12 minutes.
Meanwhile, heat oil in a wok over high heat, add curry paste and stir-fry for 1 minute. Add chicken and cook for about 4 minutes or until almost cooked through. Add capsicum and stir-fry for 2-3 minutes, add chilli, coconut milk and peas and cook for 1-2 minutes. Add basil and coriander leaves.
Serve with lime cheeks and rice.