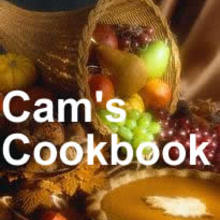 Pork Fillet in Filo Pastry
---
Ingredients:
400 g pork fillet
1 tblspn oil
8 large spinach leaves
100 g Gippsland blue cheese
freshly ground black pepper
12 sheets filo pastry
1 1/2 tblspns butter


SAUCE
1/2 tblspn butter
2 shallots, finely chopped
2 tblspns dry vermouth
3 tblspns white wine
1 cup brown veal stock
1/2 cup cream
1 small bunch chives
freshly ground black pepper
Method:

Slice the fillets in half, flatten with a meat mallet until they are about 5mm thick and season with ground pepper. Heat the oil in a heavy based frying pan and seal the fillets on both sides. Remove from the frying pan and allow to cool.
Blanch the spinach in boiling salted water. Drain and plunge into cold water, drain and pat dry with absorbent paper. Remove the stalks and place the spinach leaves onto a tea towel, allowing 2 per person, and overlap, slightly.
Place pork on each spinach leaf, , divide the cheese into four and place on the pork. Top with more pork and fold the spinach over to make small parcels. Season with freshly ground black pepper and refrigerate.
Preheat oven to 180 ?C.
Place four sheet s of filo pastry on a dry surface. Brush each sheet with melted butter and place another sheet on top. Repeat until you have 4 lots of 3 buttered filo sheets.
Place the spinach parcels at one end of each sheet and fold over. Brush with melted butter and place on a lightly oiled baking dish.
Bake for 8 - 10 minutes.
To make the sauce: Saute the shallots in butter, add vermouth, white wine and stock and reduce by two-thirds. Add the cream and reduce over a medium heat until the sauce becomes thick and creamy. Season to taste and keep warm. Snip the chives finely and add to the sauce, stir well and check the seasoning.
Place parcels on warmed serving plates and pour sauce around. Serve immediately with steamed vegetables.