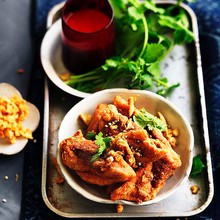 Deep Fried Chicken With Garlic & Peppercorns
---
Ingredients:
350g chicken breast fillet., cut in to strips
1 tblspn fish sauce
pinch sugar
2 coriander roots, scraped & chopped
pinch sea salt
1/2 tspn white peppercorns
1 head of garlic, cloves separated
500ml vegetable oil, for deep frying
60g plain flour
freshly ground white pepper, to serve
coriander leaves, to serve
chilli sauce, to serve
Serves: 4
Method:

Marinate the chicken strips in the fish sauce and sugar for 30 minutes.

Meanwhile, pound the coriander roots, salt and peppercorns in a mortar with a pestle. Add the garlic cloves and pound to a coarse paste, removing the garlic skin and hard base as you go.

Heat the oil in a wok or deep-fryer until smoking (180°C), then toss half the chicken in flour until well coated. Shake away any excess.

Deep-fry the chicken, stirring regularly, for 3-4 minutes or until golden. Use a slotted spoon to remove the chicken pieces, drain on paper towel. Repeat with remaining chicken.

Scoop out any debris from the oil. Add the garlic mixture (be careful; it will spit). Move the garlic around in the oil until it is golden, then remove and drain on paper towel.

Place the fried chicken on a serving plate, sprinkle with crisp garlic, white pepper and coriander leaves and serve with your favourite chilli sauce.