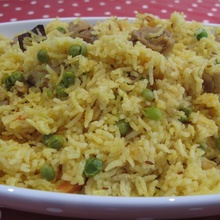 Chicken & Pea Pulao
---
Ingredients:
2 cups basmati rice
6 chicken fillets
4 medium tomatoes
1 tspn whole cumin
2.5 cm cinnamon
1 large bay leaf
2 black cardamoms
1/2 tspn chilli powder
1 tspn turmeric
1 cup frozen peas
salt to taste
2 tblspns vegetable oil
Borrowed from Mallika Basu at Quick Indian Cooking
Serves: 6 - 8
Method:

Chop the chicken into small bite-sized pieces and roughly chop up the tomatoes. In a sieve, wash the rice with cold water until the water runs clear.
In a large pot, bring the oil to heat on high. When it's hot, drop in the whole spices and as they sizzle up, toss in the chicken pieces. Brown the chicken for a couple of minutes, then mix in the tomatoes and the powdered spices. Fry for two minutes until the tomatoes start disintegrating.
Next, stir in the rice and seal it in the chicken mixture for a minute. You will see the grains turning less translucent. Finally, mix in 3.5 cups of boiling water. Bring back to boil, then mix in the peas, cover and cook on a gentle simmer for 20 minutes until the water is absorbed and the rice is cooked. Resist the temptation to stir the rice while it's cooking or you will get mushy rice.
This is lovely served with thick natural yoghurt. My kids almost always eat the chicken and peas first, then make a yoghurty rice mix to spoon messily into their mouths! I follow suit… with some chilli pickle of course.