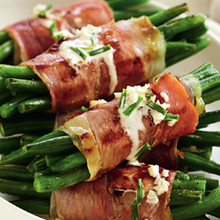 Bean Bundles With Creamy Chive Sauce
---
Ingredients:
350g green beans, trimmed
6 slices prosciutto
3 tspns basil pesto
2 cloves garlic, crushed
2 tblspns chopped fresh chives
1 cup cream
Serves: 6
Method:

Bring a large saucepan of water to the boil over high heat. Cook beans for 3 minutes or until bright green and just tender. Drain. Refresh in a bowl of iced water. Drain. Pat dry with paper towel.
Divide beans into 6 portions of around 10 each. Place 1 slice prosciutto on a flat surface. Spread with 1/2 teaspoon pesto. Place 1 portion of beans at 1 short end of prosciutto. Roll beans up in prosciutto. Repeat with remaining prosciutto, pesto and bean portions.
Heat a large, non-stick frying pan over medium-high heat. Cook bean bundles for 2 minutes each side or until prosciutto is crisp. Transfer to a dish. Cover to keep warm.
Reduce heat to medium. Add garlic and chives to pan. Cook, stirring, for 1 minute or until fragrant. Add cream. Cook for 2 to 3 minutes or until slightly thickened. Season with pepper. Drizzle over bean bundles. Serve.