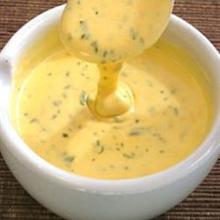 Bearnaise Sauce
---
Ingredients:
60 ml white vinegar
2 tablespoons of water
6 crushed peppercorns
Pinch of salt
1tsp tarragon
1 spring onion
3 egg yolks
125g butter
The king of all sauces from the province of Bearn, France.
Method:

Combine vinegar, water, tarragon, pepper corns, salt and chopped spring onion in a small saucepan.
Cover and simmer for 5 minutes. Allow to cool, strain and reserve the liquid.
Whisk egg yolks and reserved liquid in small saucepan over very low heat. Slowly add cubes of butter while continuously whisking.
Continue until all the butter has been added and the sauce thickens.