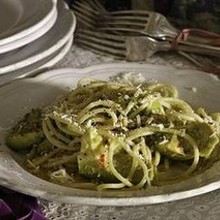 Spaghetti With Garlic, Oil, Chilli & Avocado
---
Ingredients:
3 tblspns olive oil
1 clove garlic, chopped
1 semi-dried red chilli, chopped
1 ripe avocado
Juice of 1/2 lemon
160g spaghetti
Grated parmesan, to serve
Serves: 2
Method:

Heat the oil and garlic over a gentle heat in a small frying pan to draw out the flavour. Take care not to burn the garlic as you can ruin its flavour. When it smells good add the chilli and heat for a moment more. Remove from heat.
Halve the avocado and scoop out chunks into a wide serving bowl. Add the lemon juice and season well. Cook the pasta in boiling salted water until al dente. Pour the cooled garlic and chilli oil over the avocado and gently mix through. Scoop out the pasta into the bowl. Add a little of the cooking water and turn through gently, trying to keep the avocado in chunks.
Serve immediately with lots of grated parmesan and a nice extra grind of black pepper.