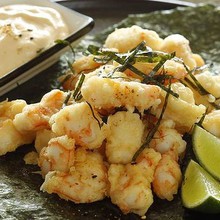 Popcorn Shrimp
---
Ingredients:
16 medium raw prawns, shelled
110g plain flour, plus 1 tblspn extra
200ml iced water
1 tspn chilli sauce
50ml whole egg mayonnaise
1 tblspn rice vinegar
1 tspn mirin
750ml vegetable oil for deep frying
1 egg yolk
1 tspn sea salt
1 sheet nori, toasted and cut into strips
1 lime, quartered
Serves: 4
Method:

Cut each prawn into three or four pieces, depending on size, and pat dry. Toss in 1 tablespoon of flour. Drop ice cubes into the water to keep it chilled.
Whisk the chilli sauce, mayonnaise, rice vinegar and mirin together until smooth.
Heat the oil to 180C or until a drop of batter crisps without browning.
To make the tempura batter, mix the egg yolk and iced water lightly in a bowl. Dump the flour into the bowl and mix lightly with chopsticks, leaving it rough and lumpy (this may sound weird, but it is a classic tempura technique). Working in small batches, coat the prawns in the batter and fry for 2 minutes or until lightly golden. Drain well on paper towel, scatter with sea salt and serve immediately with nori strips, spicy mayonnaise and lime wedges.