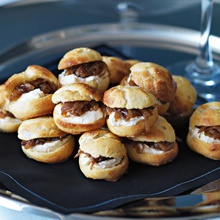 Goats Cheese Gougeres With Caramelised Onion
---
Ingredients:
80ml water
40g butter, at room temp, cut into 1cm pieces
50g plain flour, sifted
2 eggs at room temperature
olive oil, to grease
1 tblspn olive oil
4 brown onions, thinly sliced
3 thyme sprigs, leaves removed
1 tblspn balsamic vinegar
120g goats cheese, crumbled
200ml pouring cream
Method:

Place water and butter in a medium saucepan over medium heat. Cook, stirring, for 3-4 minutes or until butter melts and mixture just comes to the boil. Remove from heat. Add the flour and use a wooden spoon to mix until well combined. Place over low heat and cook, stirring, for 1 minute or until the mixture forms a ball and begins to come away from the side of the pan. Set aside for 5 minutes to cool slightly.
Whisk 1 egg in a small bowl. Add to the flour mixture, beating well with the wooden spoon. Whisk remaining egg in the bowl. Gradually add to the flour mixture, a little at a time, beating well after each addition, until the mixture just falls from the spoon but still holds its shape (you may not need to add all the egg).
Preheat oven to 200°C. Brush 2 baking trays with oil. Drop 20 teaspoonfuls of the mixture, about 3cm apart, onto the prepared trays. Brush with remaining egg. Bake for 25 minutes or until the gougeres are puffed and golden.
Turn oven off. Use a skewer or small knife to pierce the base of each gougere. Place gougeres in oven for 15 minutes to dry out. Transfer to a wire rack to cool completely.
Meanwhile, heat the oil in a medium saucepan over medium-low heat. Add the onion and thyme and toss to coat. Cover and cook for 15 minutes or until the onion is very soft. Uncover and cook for 10 minutes or until pale golden. Stir in the vinegar. Cook for 2 minutes. Set aside to cool completely.
Process the goats cheese and cream in the bowl of a food processor for 5-10 seconds or until smooth and well combined.
Cut gougeres in half horizontally. Divide cream mixture and onion mixture among the bases. Top with remaining gougere.