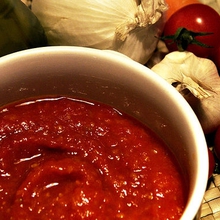 Tomato Sauce
---
Ingredients:
3kg tomatoes
2 cloves garlic, chopped
1 small chilli, chopped
3cm piece of ginger, peeled and sliced
1/2 fennel bulb, roughly chopped
3 red onions, chopped
2 celery sticks, roughly chopped
1 litre cider vinegar
8 cloves
10 peppercorns
1 cup brown sugar
3 tblsons olive oil
Method:

Combine all ingredients with 1 cup water in a large saucepan, bring to a boil then reduce to a simmer.
Cook until ingredients are very soft, about 90 minutes. Let cool, then place mixture in a food processor, in batches if needed.
Purée, then run mixture through a sieve. Discard solids and return purée to the clean saucepan. Simmer and let reduce by about half, until thick and a tomato sauce consistency.
Spoon sauce through a funnel into sterilised bottles or jars, seal tightly.
When sealed, the sauce will keep unopened for 6 months.