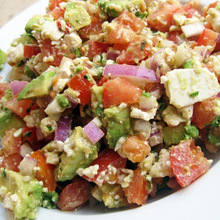 Avocado & Feta Salsa
---
Ingredients:
2 small avocados, finely diced
1 French eschalot, finely chopped
1/2 clove garlic, crushed
juice of 1/2 lime
1/2 cup coriander, chopped
100g feta, crumbled
extra virgin olive oil
Method:

Combine all ingredients in a bowl.
Drizzle with olive oil and season with salt and pepper to taste.
Eat immediately or refrigerate for up to 2 hours.