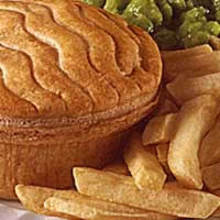 Chicken Pie
---
Ingredients:
1 generous handful of fresh rosemary
1 large onion
2 oz butter
1/3 cup plain flour
2/3 cup milk
1 1/4 cup chicken stock
2 chicken fillets
handful mushrooms
1 green pepper seeded & chopped
fresh ground pepper
Worcestershire sauce
frozen puff pastry
egg for glazing
Serves: 4
Method:

Fry diced onion, pepper & rosemary in extra butter until onion is brown. Add diced chicken & fry until lightly brown. Add generous amount of Worcestershire sauce. Put pan aside.
Melt 2 oz of butter in a saucepan, stir in flour. Cook stirring for 1 minute. Remove from flame, gradually add in chicken stock & milk. Return to flame & heat gently until sauce thickens. Stir in mushrooms, peppers & chicken cook for 10 minutes.
Transfer mixture to pie dishes.
Place 2 layers of puff pastry over the top. Pat it, prick it, decorate it & glaze it.
Cook in preheated hot oven until the pastry is cooked.