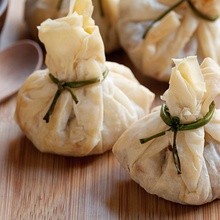 Thai Pork & Chilli Money Bags
---
Ingredients:
2 tspns vegetable oil
3 green onions, thinly sliced
1 stalk lemongrass (white part), finely chopped
500g pork mince
2 tblspns sweet chilli sauce
1 1/2 tblspns lime juice
1 tspn fish sauce
1 tblspn finely chopped coriander leaves
1 tblspn finely chopped mint leaves
12 sheets filo pastry
Canola oil cooking spray
1/2 bunch fresh chives, blanched
Sweet chilli sauce, to serve
Serves: 24
Preparation time: 1.5 hours
Method:

Heat oil in a large frying pan over medium-high heat. Add onion and lemongrass. Cook, stirring, for 2 minutes or until fragrant. Add mince. Cook, stirring with a wooden spoon to break up mince, for 8 to 10 minutes or until browned and cooked through. Stir in sweet chilli sauce, lime juice, fish sauce, coriander and mint. Remove from heat.
Preheat oven to 180°C/160°C fan-forced. Line 2 large baking trays with baking paper. Place 1 sheet filo on a flat surface. Spray with oil. Top with 1 sheet filo. Repeat with a third sheet of filo. Repeat process to make a total of 4 stacks. Cut filo stacks in half lengthways. Cut each half into thirds.
Place 1 square filo on a flat surface. Place 1 tablespoon mince mixture in centre of filo. Fold up sides to form a pouch. Pinch to enclose filling. Tie with a chive to secure. Place on prepared baking tray. Repeat with remaining filo, spray, mince mixture and chives. Spray pouches with oil. Bake for 25 minutes or until light golden and crisp. Serve with sauce.
Note: To blanch chives, place in a heatproof bowl and cover with boiling water. Stand for 30 seconds. Drain. Refresh under cold water.