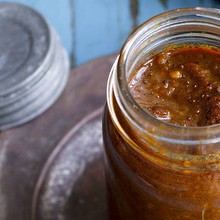 Kasundi Tomato Relish
---
Ingredients:
125g fresh ginger, peeled and chopped
60g garlic
30g green chillies, seeds removed
250ml malt vinegar
125ml vegetable oil
45g black mustard seeds
15g ground turmeric
40g ground cumin
40g smoked paprika
5g hot paprika
1kg tomatoes, fresh or tinned, pureed
125g brown sugar
20g salt
Serves: 1.5 litres
Preparation time: 1 - 2 hours
Method:

Place ginger, garlic, chillies and 50ml of vinegar in a food processor and puree to a smooth paste.
Heat oil, add dry spices and cook on a medium heat for 5 minutes. Add ginger and garlic paste and cook for a further 5 minutes.
Add tomatoes, sugar, salt and remaining vinegar and simmer for an hour. When the oil comes to the top and the relish looks like a curry sauce, it is ready. Pour into sterilised jars and seal while still hot.