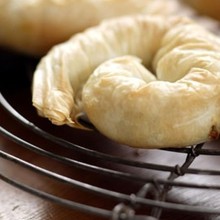 Spanakopita
---
Ingredients:
1 bunch spinach
100g feta cheese, crumbled
2 tblspns chopped fresh mint
3 tblspns roasted pine nuts
1 egg, beaten
3 spring onions, sliced
1 tblspn grated parmesan cheese
pepper
10 sheets filo pastry
150g butter, melted
Preparation time: 1 - 2 hours
Method:

Preheat oven to 180C.
Pick off the spinach leaves and wash thoroughly. Cook in salted boiling water for a few minutes then drain and rinse. Squeeze out excess water and chop roughly.
In a bowl, mix together the spinach, feta, mint, pine nuts, egg, spring onions and parmesan. Season with a little pepper.
Take one sheet of filo and lightly brush with the melted butter. Lay another sheet over the top, brush again with butter then fold in half lengthways. Spread about two tablespoons of mixture over the pastry and roll so you have one long tube. Now coil the pastry tube into a snail shape and tuck the end underneath so it stays put. Brush with butter and refrigerate while you repeat with the rest of the mixture. You should have four or five snails.
Bake 15-20 minutes or until golden. The spanakopita can be served hot or just warm and will reheat quite well.