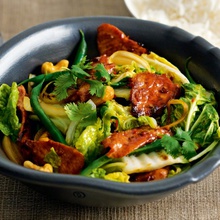 Sticky Pork, Chinese Cabbage & Cashew Stir-Fry
---
Ingredients:
2 long red chilli, seeded, finely chopped
2 cloves garlic, crushed
1 tblspn white wine vinegar
2 tblspns caster sugar
60ml char siu sauce
1 pork fillet, thinly sliced
1/2 Chinese cabbage (wombok)
2 1/2 tblspns vegetable oil
200g small green beans, trimmed
125g roasted cashews
Coriander & steamed rice, to serve
Serves: 4
Preparation time: 25 minues
Method:

To make marinade, place chillies, garlic, vinegar, sugar and char siu sauce in a bowl and stir to combine. Add pork and stir to coat.
Trim cabbage base, then remove outer leaves and discard. Cut cabbage widthwise into 3cm-thick slices.
Heat a wok over high heat. Drain pork, reserving the marinade. Add 2 tsp oil and half the pork and cook for 30 seconds each side or until pork is browned and almost cooked through. Transfer to a plate and wipe the wok clean using paper towel. Repeat with 2 tsp oil and the remaining pork.
Heat the remaining 1 1/2 tbs oil in the wok over high heat. Add beans and stir-fry for 1 minute, then add the reserved marinade and bring to a simmer. Add cabbage and cook, tossing, for 2 minutes or until tender but still crisp (don't overcook the cabbage or it will become watery). Return pork to wok, add cashews and stir-fry for a further minute or until warmed through. Scatter with coriander leaves and serve immediately with steamed rice.