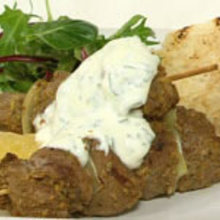 Lamb Kebabs With Yoghurt Dressing
---
Ingredients:
500 g natural yoghurt
6 cloves garlic
1 tsp ground coriander
1 tsp cumin
1 tsp black pepper
1 tsp fennel seeds
1 tsp paprika
1 tsp allspice
3 tbsp chopped mint
1 kg lamb fillets
1 large onion
Method:

YOGHURT DRESSING
Combine half of the yoghurt with 2 cloves of garlic, 1/2 tsp pepper, and mint.
KEBABS
Cube lamb and marinate in the remaining ingredients.
Skewer lamb with onion and grill on a hot barbecue.
Serve with flat bread and salad.