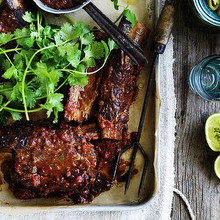 Mexican Style Braised Beef Short Ribs
---
Ingredients:
1kg beef short ribs
2 tblspns olive oil
1 long green chilli, seeds removed, finely chopped
3 cloves garlic, finely chopped
large pinch sea salt
freshly ground white pepper
1 tspn ground cumin
1/2 tspn ground chilli powder
1 tspn ground coriander
1/2 tspn ground allspice
400g tinned tomatoes, chopped
1 1/2 tblspns jalapeno chillies, chopped
1 tblspn brown sugar
1 tblspn red wine vinegar
600ml chicken stock
juice of 1 fresh lime
1 bunch coriander, leaves picked, roughly chopped
Serves: 4
Preparation time: 1 - 2 hours
Method:

PLACE THE RIBS in a heavy-based saucepan, cover with cold water and bring to the boil. Strain, return back to saucepan and cover again with fresh water. Bring to the boil and simmer for 1 hour. Turn off the heat and allow the ribs to cool in the water. Drain, place in a bowl, and set aside.
PREHEAT THE OVEN to 180°C.
HEAT THE OLIVE OIL in a wide, heavy-based saucepan and sauté the green chilli, garlic, salt, pepper, cumin, chilli powder, ground coriander and all-spice for about 1 minute, or until fragrant. Add the tomatoes, jalapeños, brown sugar, red wine vinegar and chicken stock and bring to a simmer. Pour this mixture over the ribs, toss to coat, and place on a lined baking tray. Pour over any remaining marinade.
ROAST THE RIBS for about 1 3/4 hours, stirring occasionally, or until the meat is golden and falling from the bones. Drain off excess fat. Gently stir through the lime juice, garnish with coriander, and serve.